SALICYL HYDROXIMIC ACID
---
Our current production capacity is xanthates 50000mt per annum,dithiophopsphates 10000mt per annum,Thionocarbamates 5000mt per annum.

---
Product name:SALICYL HYDROXIMIC ACID
English name:SALICYL HYDROXIMIC ACID
Major Component: Salicyl Hydroximic Acid
Molecular Formula:C6H4OHCONHOH
Structural Formula: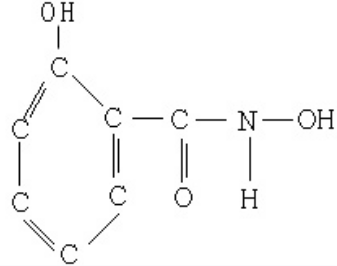 Description:Pink to orange powder, sparingly soluble in water, soluble in aqueous alkali, chemically stable with the odour of salicylic acid.
Principal uses:
Salicyl Hydroximic Acid can form stable chelate with tin tungsten, copper, iron and rare earth etc. But it forms unstable chelate with alkali metals and alkali earth metals. So the selectivity of Salicyl Hydroximic Acid is excellent. Especially Salicyl Hydroximic Acid chelates with tin to form various complex salts, so Salicyl Hydroximic Acid has strong selectivity for tin. In the flotation of tin, it is always used in conjunction with P86, and Salicyl Hydroximic Acid also has some frothing performance. Salicyl Hydroximic Acid also exhibits the property of low toxicity, (one sixteenth of that benzyl arsenic acid, so the application of this product can greatly improve the environment), low dosage and wide applicability.
Specification:
| | |
| --- | --- |
| Item | Index |
| Salicyl Hydroximic Acid % ≥ | 60.0 |
| Life Time (month) | 24 |
| Packing: | 100kg/steel drum |
Storage & transport: To be protected from damp, torrid sunlight and fire.